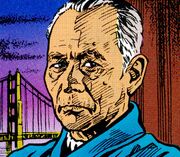 Heihachiro Nogura was a seasoned, and much respected Starfleet officer who served in the 23rd century.
Nogura entered Starfleet in the early 23rd century and became good friends with George Samuel Kirk, Sr. and his wife Winona Kirk. Nogura was often a frequent visitor to the Kirk's home in Iowa, Earth and had a lasting effect on James T. Kirk as a child.
In 2266, Admiral Nogura was assigned to command Starbase 47 (Vanguard Station) following the arrest of Commodore Diego Reyes. (VAN novel: Open Secrets)
Nogura became Commanding Officer, Starfleet Command in 2270, following the Rittenhouse Scandal. Following the scandal, Starfleet's reputation was shattered, and some believed its very existence was threatened after the Federation Council lost faith. With Nogura's formidable attitude and brilliant reputation, he was judged the perfect man to restore Starfleet to its former glory. (TOS novel: The Lost Years)
The Lost Years established that Nogura had retired from Starfleet in the 2250s, only to be pressed back into service in 2270. This is incompatible with several of his other novel appearances during the five year mission timeframe.
During his tenure as Nogura was affectionately known as "The Old Man", but in some circles he was referred to as "God Himself", because of his formidable air and his ability to get the job done. (TOS novel: The Lost Years.)
In 2290, Nogura reviewed Hikaru Sulu's violation of orders and Klingon space. (TLE novel: Excelsior: Forged in Fire)
This article or section is incomplete
This article is marked as lacking essential detail, and needs attention. Information regarding expansion requirements may be found on the article's talk page. Feel free to edit this page to assist with this expansion.
Appearances
External Links
Community content is available under
CC-BY-SA
unless otherwise noted.