Heitius VII was a planet located somewhere in the space of the galaxy's Alpha or Beta Quadrants, the seventh planet in orbit of the Heitius star system.
History and specifics
Heitius VII was a class MZ planet, located near a sector of the Romulan Empire. Thousands of years ago, it was the homeworld of the Heitian civilization, who depleted its resources through overpopulation and unchecked technological progress, resulting in their extinction and the planet becoming a desert.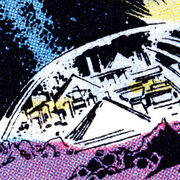 In the year 2267, a Federation archeological dig conducted on Heitius VII by Doctor Stephen Mohr unearthed a mummy. The starship USS Enterprise was assigned to transport the mummy to the Federation Alien Life Studies Institute, with Spock and Leonard McCoy landing in the shuttlecraft Galileo to pick it up. Dr. Mohr showed the Starfleet officers around the ruins of the city, where they discovered an underground laboratory and three more mummies, which came to life and attacked the landing party, capturing them. Spock discovered that the mummies were cyborgs programmed to convert people into cyborgs, beginning with them. Spock and McCoy used their phasers on maximum setting to deplete the mummies' power supply, deactivating them. (TOS comic: "The Mummies of Heitius VII")
Appendices
Connections
Appendices
References