For other uses, see Helios.
The Helios class was a 23rd century Federation starship class, a tug[1] in Starfleet service in the 2250s[2] and 2380s[3] decades. (DSC episode: "Brother", Short Treks episode: "Children of Mars")
Technical data
The Helios classes used the same compact primary hull with secondary hull-like extension at the aft end as the Malachowski-class light cruiser, which had a standard crew complement of 200.
An engineering sled was suspended between the nacelle pylons halfway between the ventral hull and the warp nacelles. The design of the nacelle pylons was based on the older Walker-class cruiser, while the nacelles themselves were smaller, shortened versions of their Hoover-class counterparts.
The basic color was two-toned metallic gray. The ship's registry, penned in black, sat atop a half circle of light metallic paint, embedded between sections of darker paint. Two trapezoid blocks were on the extended aft section of the saucer. These were reminiscent of the Miranda-class, and matched the Malachowski hull.
The Helios class was 163.37 meters long. It was fitted with tractor beam emitters powerful enough to tow starships many times its size. For large vessels, a pair of Helios Starfleet tugs could operate in conjunction. (DSC Issue 27: "Starfleet Tug")
Service history
The Helios class was in service by the 2250s decade, around the time of the Federation-Klingon War of 2256-2257. (DSC Issue 27: "Starfleet Tug")
In the year 2257, the USS Zimmerman and another Helios-class Starfleet tug held the USS Enterprise in position. The ship had been crippled in a more than a year-long one-year mission to the Pergamum Nebula. The tugs brought the Enterprise to a spacedock for repairs. (DSC episode: "Brother")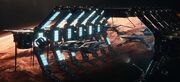 Ships of this class were in service in the 2380s decade, together with the 2250s-era Magee-class escort. On First Contact Day, 5 April 2385, a pair of Helios-class tugs and a pair of Magee-class ships were docked together inside a drydock above Mars. On that day, Romulan manipulation led to Synths going on a rampage, destroying the Utopia Planitia Fleet Yards and setting Mars's atmosphere ablaze. (Short Treks episode: "Children of Mars")
In the year 2409, the Helios moniker was given to a new class of science vessels, the Helios-class Dyson science destroyer. (STO website: Starfleet Advanced Dyson Science Destroyers)
Known vessels
Appendices
Connections
References
External link