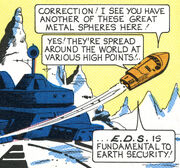 The
Himalayas
were a
mountain
range on
Earth
. It contained the
Kabul River
and had trails that, by the
24th century
, were considered to be "ancient". Its
Mount Everest
was the tallest mountain on the
planet
.
Background
Edit
Shangri-la was a mythological paradise in the Himalayas where people aged very slowly. It had stayed the same for thousands of years. (TOS novel: The Covenant of the Crown)
From orbit, the Himalayas sometimes seemed to glow with a faint light depending on the moon's phases, similar to the Swiss Alps and the American Rocky Mountains. (TOS novel: Spock's World)
A three-story shrine in the Ajorra Caves in Maharashtra was designed to honor Mount Meru in the Himalayas. (ST - The Eugenics Wars novel: The Rise and Fall of Khan Noonien Singh, Volume 2)
Anatossia's western coast featured the Illesa Mountains, which were as tall as the Himalayas. (TOS novel: Garth of Izar)
In 2264, a week after taking his final exams at Starfleet, Hikaru Sulu considered that he'd seen many wonders, including mountains taller than the Himalayas. (TOS novel: Enterprise: The First Adventure)
In 2266, Alfred Bleikoff toured Earth monuments and locales in a shuttle. He was flown over the Himalayas. An Earth defense screen installation was located on the mountain range, likely near Mount Everest. (TOS comic: "Prophet of Peace")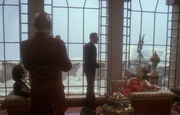 In
2367
,
Federation Starfleet
Captain
Jean-Luc Picard
attempted unsuccessfully to convince his
first officer
,
Commander
William T. Riker
, to attempt a
holodeck program
of
horseriding
in the mountains. Riker didn't feel his horsemanship skills were up to the task. (
TNG
episode
: "
The Loss
")
The holodeck character Hippocrates Noah had a mountain retreat 25,000 feet above sea level on the southeastern slope of Mount Everest. The Himalayas were visible through his window. (DS9 episode: "Our Man Bashir")
Points of interest
Edit
Appendices
Edit
Appearances
Edit
References
Edit
External links
Edit
Community content is available under
CC-BY-SA
unless otherwise noted.