Hoek[2] was a star with an associated star system, located in the Lantar Nebula Nebula[1] of the galaxy's Gamma Quadrant.[2] The system's orbit consisted a type M red dwarf star[1] and at least four[2] planets. The fourth planet Hoek IV[2] was the site of Sampalo relics.[2] (DS9 episode: "Q-Less", ST reference: Star Charts)
History and specifics
[
]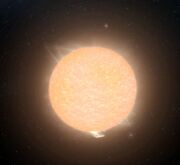 At some point before the 2360s decade, the Sampalo civilization visited Hoek IV and left behind relics.
In the year 2369, Q attempted to entice the adventurous Human archeologist Vash to remain his travel companion by offering to examine the Sampalo relics on Hoek IV. Vash declined Q's offer. (DS9 episode: "Q-Less")
By 2378, the system lay on the edge of the Lantar Nebula, a relative short distance from the Sampalo system, and far outside the Dominion's territory. (ST reference: Star Charts)
In TNG video game: Birth of the Federation, the orbital configuration of the game map star systems was randomly generated each time a new game started.
System makeup
[
]
Appendices
[
]
Connections
[
]
Appearance and references
[
]
Appearances
[
]
References
[
]
External links
[
]