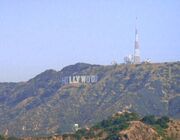 Hollywood was a district within the city of Los Angeles on Earth. It was famed as the center of movie and television production throughout most of the 20th and early 21st centuries.
On April 3, 1955, Hollywood director Bovrille was filming a movie set in ancient Rome. It was being filmed on location in a desert region in southern California using Hollywood sets, actors, and cameraman Zoltan. James T. Kirk materialized inside the movie production. A production assistant assumed Kirk was a stuntman but had been wrongly dressed for a sci-fi movie. Kirk was sent to wardrobe, outfitted in a toga, and instructed in the details of a stunt involving a chariot jumping over a gorge, aided with hidden rockets. Kirk's pursuit of a time traveler on a highway with chariots weaving around automobiles was filmed in great detail by Bovrille. (TOS comic: "A Bomb in Time")
In December 1967, while filming Vincent McEveety's The Omega Glory in Hollywood, actors William Shatner, Leonard Nimoy and DeForest Kelley temporarily switched places with Captain Kirk, Commander Spock and Dr. McCoy. (TOS short story: "Visit to a Weird Planet Revisited")
While temporally displaced to the year 2045, Lee Kelso posed as a film technician based in Hollywood, and took a job at MediaMagix, Inc. (TOS novel: Strangers from the Sky)
Real world
Paramount Pictures studios are located in Hollywood, and all live-action Star Trek productions were filmed in whole or part there.
Connections
External links