For other uses, see House.
House of Kor

Leader(s):
Member(s):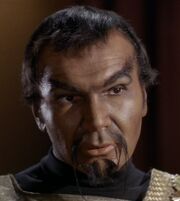 The House of Kor was a Great House of the Klingon Empire, known also at various times as the House of Mur'Eq, the House of Ngoj or Line Zareht.
The House was last led by Kor, son of Rynar. The members of this particular House were descendants of the Imperial Family, and (as befitting their high social status) tended to be rather elitist and arrogant. (DS9 episode: "Soldiers of the Empire", DSC episode: "The Vulcan Hello")
The house's name had originally been the House of Kor, but Kor, son of Kaltar changed its name to House of Mur'Eq when the Qu'Vat virus infected the house in order to remind everyone that the house's members were descended from Emperor Mur'Eq. (ST novella: The Unhappy Ones)
In the early 23rd Century the house had been renamed the House of Ngoj, but it fell on hard times following the death of its leader Ngoj during battle with the Romulans. The Lady Moj'ih attempted to continue the long standing traditions of the family and gave birth to a child; however, this child was unsuited to carry on the family line due to genetic abnormalities and his Albino status. The child was to be put to death and the Lady began focusing on her nephews to rebuild the House. Kor, son of Rynar was a member of this House who wrested control and renamed it the House of Kor again. (ST novel: Excelsior: Forged in Fire)
In 2256, Kol represented the House of Kor on the Klingon High Council. (DSC episode: "Battle at the Binary Stars") After Kol's death at the Battle of Pahvo, his father Kol-Sha represented the House on the High Council until his own death the following year. (DSC episode: "Point of Light") Kol-Sha was succeeded as leader of the House of Kor by Rynar, father of Kor. (DSC - Discovery - Succession comic: "Issue 1")
The House of Kor was active until 2375, when Kor, who was the last son of the House, died in battle against the Dominion. Kor had no surviving heirs as his son had died at the hands of the Albino in the late 23rd century. As a result, the House of Kor was dissolved upon Kor's death. (DS9 episodes: "Blood Oath", "Once More Unto the Breach")
Community content is available under
CC-BY-SA
unless otherwise noted.