For other uses, see House.
The House of Martok was a Great House in the Klingon Empire. In the 24th century the House was led by Martok, son of Urthog.
Despite Martok not being high born, the House of Martok became a powerful and respected house as Martok became one of the leading figures of the Klingon Defense Force and eventually Chancellor of the Klingon High Council. (DS9 episodes: "Once More Unto the Breach", "Tacking Into the Wind")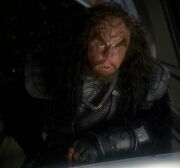 When the House of Mogh refused to support Gowron's invasion of Cardassia, it was disbanded. Martok would later welcome several members of the former House of Mogh into his house, restoring their honor amongst Klingons. Martok first brought Worf, son of Mogh, into the house as his brother. Martok later welcomed Worf's son Alexander Rozhenko into his House, Jadzia Dax upon her marriage to Worf, and to Ezri Dax following the death of Jadzia and the transfer of the Dax symbiont to Ezri. During the Genesis Wave crisis, Jeremy Aster, Worf's adopted brother, also became a member of the House of Martok. (DS9 episodes: "The Way of the Warrior", "Sons of Mogh", "Rules of Engagement", "You Are Cordially Invited", "Soldiers of the Empire"; TNG episode: "The Bonding"; TNG novel: Genesis Force)
Community content is available under
CC-BY-SA
unless otherwise noted.