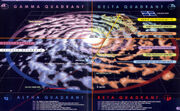 The Hradrian Empire was an interstellar nation-state, an empire controlled by the Hradrians that lasted from the 20th century to the 22nd century. The Hradrians controlled a broad swath of worlds across the entirety of the Alpha Quadrant and commanded significant firepower. (TOS novel: Savage Trade)

This article is a stub relating to a group or organization. You can help our database by expanding on it.
History
[
]
The Hradrians built their power on exploitation of other species and slavery. The L'rah'hane were employed by the Empire as pirates and slavers. Contemporary Earth defenses would not have withstood Hradrian firepower.
The Hradrian Empire fell in the year 2195. The L'rah'hane cannibalized the remains of the Hradrian navy for their pirate fleet.
Around stardate 6097.2 in the year 2270, Lieutenant Hikaru Sulu and Ensign Pavel Chekov of the Federation starship USS Enterprise discovered an old Hradrian station in the vicinity of Federation science outpost Zeta Gibraltar in the Vara Nebula sector. Commander Spock briefed Captain James T. Kirk about Hradrian history and the remains of their ruins.
The outpost, Enterprise and a group of Excalbian refugees were soon involved in a conflict with nearby L'rah'hane. The Excalbian George Washington used strategy to capture five L'rah'hane ships, forming the New Excalbia Navy. (TOS novel: Savage Trade)
Appendices
[
]
Connections
[
]
Appearances and references
[
]
Appearances
[
]
References
[
]