For other uses, see Bortas.
The IKS Bortas, also known as the IKS Revenge, was a D7-class, specifically of the K't'inga-class, Klingon battle cruiser starship in Imperial Klingon Defense Force service in the 23rd century, operational in the 2280s and commanded by Kor.
Service history
Edit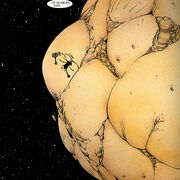 In
2289
,
Revenge
and
T'Cel
's
ChR Phoenix
joined forces with
James T. Kirk
's
USS Enterprise-A
to plan a clandestine operation to expose the "
Critters
". The Critters were a race which had surreptitiously attacked ships from the
Klingon Empire
,
Federation
,
Romulan Star Empire
,
Gorn Hegemony
, and
First Federation
in a sector near the
Romulan Neutral Zone
throughout the
23rd century
. Kor insisted that
Revenge
play the role of
Trojan horse
bait to attract the Critters. He was intent on regaining
honor
for his
QuchHa'
people, who were disgraced when a Klingon
Dreadnought class
vessel was lost to the Critters in
2273
.
Starfleet lieutenant Jamie Finney was challenged by officer Khadri and won. Kor insisted that Finney rightly assume Khadri's position aboard the Revenge, and she accepted. She fought alongside Kor's crew during their engagement with the Critters.
The operation was successful and resulted in the destruction of the "Critters" starship. Revenge was destroyed during the battle, but survivors beamed to the Enterprise. (TOS comic: "Debt of Honor")
Crew manifest
Edit
Appendices
Edit
Appearance
Edit
Connections
Edit
Community content is available under
CC-BY-SA
unless otherwise noted.