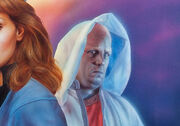 Iarni Koban was a charismatic male Human born in the year 2347. He led the human slave labor force in revolt against the Tseetsk on Koorn.
Biography
Edit
Around 2362, Koban was gravely injured in a terraforming accident, and half his face was badly scarred.
In 2367, Koban took Captain Picard and Counselor Deanna Troi hostage to extort their starship into waging a genocidal war on the Tseetsk. (TNG novel: Chains of Command)
Community content is available under
CC-BY-SA
unless otherwise noted.