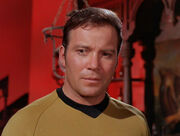 Joseph Isaac Clanton (1847 - June 1, 1887) was a human male who lived in the 19th century. He was most famous for his membership in a gang of cowboys who became involved in a gun battle down the street from the O. K. Corral in October 26, 1881. Their adversaries were Wyatt Earp, Morgan Earp, Virgil Earp and John Holliday, arguably all members of a rival gang. Both sides were endorsed by local branches of law enforcement.
In 2268, Ike Clanton's identity was imposed upon Captain James T. Kirk in a bizarre, and rather inaccurate recreation of the shootout created by the Melkotians. (TOS episode: "Spectre of the Gun", TOS novelization: The Last Gunfight)
External links
Edit
Community content is available under
CC-BY-SA
unless otherwise noted.