For other uses, see Imperator.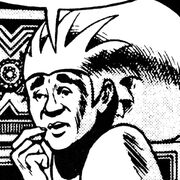 Imperator
is a political
title
. It refers to someone with the role of
head of state
and
head of government
.
From the Latin for commander, the title was first used on Earth in the Roman Empire. The Imperial Starfleet's Imperator-class starships, the ISS Imperator dreadnought and Romulan RIS Imperator were named for this title.
In 2270, Romulan Imperator Melek oversaw a trial of Spock on charges of theft and sabotage. Melek deferred to Desus, who presented himself as Supreme Commander, Romulan Supreme Command. (TOS novel: Black Fire)
In 2274, James T. Kirk, Spock, Leonard McCoy and Christine Chapel visited Imperator Dykranus on Zeta-Atez in dress uniforms, eventually saving his life. (TOS comic: "Heads of State")
In 2376 of an alternate timeline, Julian Bashir had a holographic audience with Imperator Tiberius Sejanus Singh after the Botany Bay was discovered in the sector containing Bajor. Bashir thought Singh lacked Khan Noonien Singh's charisma. (ST - Myriad Universes novel: Seeds of Dissent)
In 2384, Imperator Sozzerozs acted under orders from the Domo of the Breen Confederacy, then in 2385 attended dedication ceremonies for Deep Space 9 (II). (TNG - Cold Equations novel: Silent Weapons, ST - The Fall novel: Revelation and Dust)
Imperators
Edit
Related titles
Edit
References
Edit
External link
Edit
Community content is available under
CC-BY-SA
unless otherwise noted.