For other uses, see Hawk.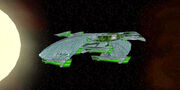 The Imperial Hawk-class battleship was a type of Romulan Imperial starship in service to the Romulan Star Navy in the late 23rd century.
History and specifics
Edit
The Imperial Hawk-class was one of the largest and most powerful warships within the Romulan Imperial Fleet in the year 2293. They measured at 763 meters long and thus were smaller than future warbird designs. Like most Romulan starships, they were created to be elegant and beautiful to see, but carried a powerful weapon payload that could destroy most opponents. They were known to possess four, or possibly six, warp nacelles.
Due to their role, the Imperial Hawk battleships were slow but compensated with their weapon systems. This included four heavy plasma torpedo launers located at the front which could deal the equivalent amount of damage from twenty four Federation photon torpedoes or three Klingon Sword of Kahless-class battleships firing simulanteously. Despite the weaponry advantage, this Romulan ship relied on its cloaking device more to damage enemies before quickly retreating under cloak until the time was ready to strike the enemy again.
These ships carried a crew of 600, along with 80 marines. (TOS video game: Klingon Academy)
Connection
Edit
Community content is available under
CC-BY-SA
unless otherwise noted.