For other uses, see Intrepid.
The Intrepid class[2] was a 25th century[2] Federation starship class, a warship[1] and legendary miracle worker multi-mission science vessel[2] based on a 31st century Kyrian holographic recreation of the 2370s-era Intrepid-class explorer USS Voyager. The Intrepid warship entered Starfleet service in the 2410s[2] decade. (VOY episode: "Living Witness", STO website: Legendary Miracle Worker Multi-Mission Science Vessel)
Livery
In the 25th century, the design of the Intrepid-class warship allowed its commanding officer to choose from different designs of hull materials, which could be modified further at Starfleet Shipyards Operations interfaces.
The ship's name and NCC or alternative registry number were emblazoned on the hull. (STO - Klingon War mission: "Welcome to Earth Spacedock")
Furthermore, the installation of deflector shields from specific factions modified the hull appearance, including shields from the Reman Resistance, the Breen Confederacy and the Dominion. (STO missions: "Coliseum", "Cold Storage", "Boldly They Rode")
Service history
Mirror universe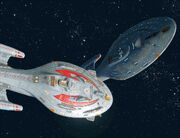 In a permutation of the mirror universe where the Terran Empire had risen to power again by the 25th century,[6] the Intrepid-class starships ISS Voyager operated independently of the Terran Rebellion in the Delta Quadrant in the 2370s. (VOY comic: "Mirrors and Smoke")
With the return of the Terran Empire, Voyager had been refitted to the Warship configuration, and Kathryn Janeway remained in command as Terran marshal. In the year 2411, the mirror Warship Voyager was part of a Terran task force operation that raided Jupiter Station in the Sol star system of the primary universe. (STO - Terran Gambit mission: "Red Shift")
Following a temporary alliance between Marshal Janeway and Vice Admiral Kathryn Janeway, both the ISS Voyager and the Federation Starfleet USS Voyager participated in a joint combat action outside Terran Space Dock at Earth (mirror) against the ISS Enterprise-F. (STO - Terran Gambit mission: "Blue Shift")
Known vessels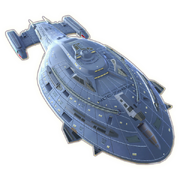 Appendices
Connections
Appearances and references
Appearances
References
External links