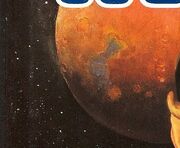 Isk'Kahr was a settlement on the planet Vulcan.
Before the Vulcan Reformation, the Healers along with his mother T'Leia demanded that Surak remained in isk'Kahr rather than join the rest of the clan that battled on the Ishaya plains. However, he had twisted out of his mothers grasp and raced away to find his father. (TNG novel: The Devil's Heart)
Community content is available under
CC-BY-SA
unless otherwise noted.