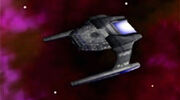 The Iwo Jima-class was a type of Federation starship in service during the 24th century. This class was designed primarily as a troop carrier and saw extensive service in the Dominion War and the Borg incursion of 2377.
The ship class is named in honor of Iwo Jima, which was the scene of bloody fighting in the Pacific theater during World War II on Earth.
It is armed with pulse phasers that are designed to take out enemy shields on planets, stations, ships. When enemy shields are destroyed or otherwise rendered inoperative, marines are deployed to commandeer said target from enemy forces. (ST video game: Armada II)
If the Iwo Jima takes a enemy starbase, construction ship, they can use the enemy technologies against that enemy, as well as any other enemies. Example of this: If the Federation takes a Borg assembler, they can work up the Borg technology tree until they can construct, use tactical fusion cubes, even Borg transwarp gates.
This article or section is incomplete
This article is marked as lacking essential detail, and needs attention. Information regarding expansion requirements may be found on the article's talk page. Feel free to edit this page to assist with this expansion.
Known vessels
Edit
Connections
Edit
Community content is available under
CC-BY-SA
unless otherwise noted.