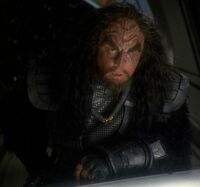 J. G. Hertzler is an American actor best known to Star Trek fans for playing General Martok in Star Trek: Deep Space Nine. He also provided the voice of the character for the games Armada, Armada II and Star Trek Online..
He also co-wrote The Left Hand of Destiny, Book One and Book Two with Jeffrey Lang, which focused on Chancellor Martok's return to Kronos after the Dominion War . Hertzler had read Lang's previous works ("Dead Man's Hand" in The Lives of Dax, and Abyss) and had enjoyed them greatly.
Aside from his role as Martok, Hertzler also played Captain Storil in "Emissary", Roy Ritterhouse in "Far Beyond the Stars", Laas in "Chimera" and also appeared as a hologram in "What You Leave Behind". Outside of Deep Space Nine he also played a Hirogen in the Star Trek: Voyager episode "Tsunkatse", and two Klingon characters in Star Trek: Enterprise.
He also voiced a character in Star Trek: Klingon and Lurok in Elite Force II.
Connections