For other uses, see Janeway.
The Janeway class[4] was a 31st century[1] Federation[2] starship class, a command science vessel[4] and variant subclass of the 24th century Intrepid-class[2] long-range science vessel,[3] in Starfleet[2] service by the 3060s and into the 3180s[2] decades. (STO website: The Janeway Class Takes Flight, DSC episodes: "People of Earth", "Die Trying")
History and specifications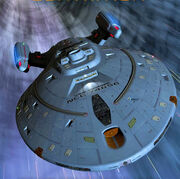 The Intrepid-class science vessel USS Voyager was notable for traversing the Delta Quadrant after being stranded there in the 2370s decade. The ship survived the odyssey thanks to the leadership of Captain Kathryn Janeway. (VOY episode & novelization: Endgame)
The Wells-class temporal science vessel USS Janeway was active in the 31st century. (STO - Agents of Yesterday short story: "No Profit But The Name")
The Janeway class entered service at some point before the Burn occurred in the year 3069. It was a 31st century refit of the 24th century Intrepid class. (DSC episode: "Die Trying")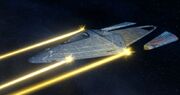 The Janeway was armed with 32nd century phaser banks, phaser beam arrays, photon torpedo launchers, and the newly developed photonic cannon. This cannon had been theorized in the late 24th century and was made reality through programmable matter and holography. Ships of this era were equipped with a cloaking device and deflector shields. While detached warp nacelles were common in Starfleet around this time, the command science vessel's primary hull and secondary hull were also physically disconnected from one another.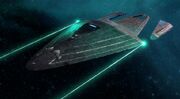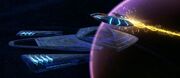 Like its Intrepid-class ancestor, the Janeway class employed variable geometry pylons[6], meaning its warp nacelles moved from a lowered resting position at sublight to a raised position for warp flight.
At some point in the 32nd century, ships of this class were time-displaced to the 2410s decade and re-entered service as tier 6 command science vessels in the Khitomer Alliance. (STO website: The Janeway Class Takes Flight)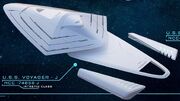 The USS Voyager-J survived the Burn and remained in Starfleet service into the 3180s decade. In the year 3189, Voyager-J was attached to Federation Headquarters. (DSC episode: "Die Trying")
Voyager-J acted as the lead ship during an attempted takeover of the Federation by the Emerald Chain. (DSC episode: "That Hope Is You, Part 2")
Livery
In the 25th century, the design of the Janeway-class command science vessel allowed its commanding officer to choose from different designs of hull materials, which could be modified further at shipyards.
The ship's name and NCC or alternative registry number were emblazoned on the hull. (STO - Klingon War mission: "Welcome to Earth Spacedock")
Furthermore, the installation of deflector shields from specific factions modified the hull appearance, including shields from the Reman Resistance, the Breen Confederacy and the Dominion. (STO missions: "Coliseum", "Cold Storage", "Boldly They Rode")
Known vessels
Appendices
Connections
Appearances and references
Appearances
References
External links