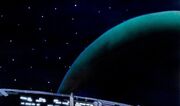 Janir was a settlement on Bajor. It was once near a river, although the river's course changed thousands of years ago. Trakor predicted the river would would return to Janir in his third prophecy.
In 2371, the Qui'al dam was put back in operation and the river returned to Janir. Vedek Yarka was convinced that this meant the rest of Trakor's prophecy would soon come true. (DS9 episode: "Destiny")
In 2376, an Oralian temple was constructed in Janir. (DS9 - Worlds of Star Trek: Deep Space Nine novel: Bajor: Fragments and Omens)
Community content is available under
CC-BY-SA
unless otherwise noted.