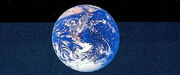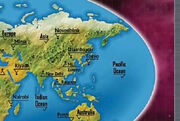 Japan was a nation-state on Earth, just off the east coast of Asia. It is composed of four major islands, Hokkaido, Honshu, Kyushu, and Shikoku, and many smaller islands, with its capital in the city of Tokyo. Its primary language was Japanese.
In its history, Japan was ruled by shoguns. It also had traditional female entertainers known as geisha. (FASA RPG module: The Orions: Book of Common Knowledge)
Hoshi Sato was a native of Japan. (ENT episode: "In a Mirror, Darkly")
Shimizu Hana, mother of Hikaru Sulu was from the island of Shikoku. (TLE - Tales from the Captain's Table short story: "Iron and Sacrifice")
Visiting the planet Neolithia in 2267, Hikaru Sulu compared it to the National Park of Kyoto in Japan. (TOS novel: Mission to Horatius)
In an alternate timeline accidentally created by Leonard McCoy saving Edith Keeler's life in March 1930, Keeler became a powerful voice in the American Pacifist Movement. She exerted significant influence on the administration of U.S. President Franklin D. Roosevelt much so as to delay the United States' entry into World War II. Japan did not attack Pearl Harbor on December 7, 1941 as it did not consider the US to be a significant threat. By 1944, after the United Kingdom had fallen to the Nazis and Japan had conquered Australia and New Zealand, the Axis finally struck against the United States in Hawaii and drew the nation into war. World War II continued into 1955 and was eventually won by the Axis. (TOS - Crucible novel: Provenance of Shadows)
Community content is available under
CC-BY-SA
unless otherwise noted.