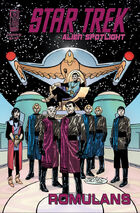 John Byrne is a comic book artist and writer, notable for his extensive work on numerous major comic franchises since the 1970s. His first work on Star Trek comics came in 1987, with illustrations in DC Comics' Who's Who in Star Trek, Issue 1 and Issue 2. It was not until 2008 that he created his first full Star Trek comic, for IDW Publishing, he has since gone on to produce numerous series of Star Trek comics for IDW.
Biography
Byrne's first contribution to Star Trek comics was in 1987 when he provided illustrations for the articles on Harry Mudd, Sarek, David Bailey, Hortas, Iotians and Khan Noonien Singh in DC Comics' Star Trek reference work, Who's Who in Star Trek.
Byrne had long been a fan of Star Trek, however during his career Byrne had a number of bad experiences with likeness approval on various TV and move tie-in comic franchises and became wary on working such comics. However in 2007 IDW Publishing editor Chris Ryall managed to convince Byrne to work on his first full Star trek comic, "Alien Spotlight: Romulans", which with its focus on Aliens rather than any of the primary cast of the Star Trek series freed Byrne from the concerns of likeness approval. That first foray "removed the cork from the bottle, and allowed the genii to escape" and Byrne has gone on to produce numerous Star Trek comics for IDW.[1]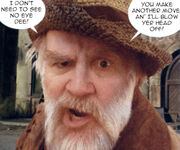 Byrne has so far produced six series for IDW: Assignment: Earth, focusing on Gary Seven; Romulans: The Hollow Crown and Romulans: Schism, sequels to his Romulan Alien Spotlight story (which collectively have been published in the omnibus Romulans: Pawns of War; Crew, a TOS prequel focusing on Number One; and Leonard McCoy, Frontier Doctor, a series featuring Doctor McCoy set prior to Star Trek: The Motion Picture. He also produced the series New Visions in the style of a photo-novel, adapting images sourced from Star Trek episodes. Byrne used his likeness for one of the characters appearing in that series.
Byrne currently has three further Star Trek series green-lit by IDW. One of these will conclude at about the time Robert April takes command of the USS Enterprise, and the final of the three will be a second Assignment: Earth series.[2][3]
Another idea Byrne had but has yet to develop, having pushed it back behind his other Star Trek series, is a miniseries exploring the adventures of Balok and David Bailey.[4] One idea Byrne will not be able to realize was a crossover between Assignment: Earth and the series Doctor Who; unfortunately the BBC, who own the Doctor Who franchise, were not willing to go ahead with this.[5]
Elsewhere in IDW's output, the artist J.K. Woodward created an homage to John Byrne's cover for the Uncanny X-Men comic "Days of Future Past" for his own cover for "Do Not Close Your Eyes", the first issue of the The Last Generation miniseries.
Star Trek credits
DC Comics
IDW Publishing
Artist, writer and cover credits for all issues:
Writer, photo montage and cover credits for all issues:
Unnumbered and additional stories:
Covers
Sketch covers
Appendices
External links