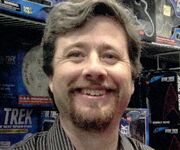 John Jackson Miller is an American author and comic book writer whose first contribution to Star Trek was Absent Enemies, an eBook in the Star Trek: Titan series.
Miller is primarily known for his work in the Star Wars franchise, most notably the Knights of the Old Republic and Knight Errant comic book series as well as A New Dawn, the first novel in the new Star Wars canon. He has also written other comics, including the comic book adaptation of Indiana Jones and the Kingdom of the Crystal Skull, and researched comic book circulation history on the Comichron website and through contributions to the Standard Catalog of Comic Books.
The first prose fiction pitch Miller had accepted was for the Star Trek: Corps of Engineers eBook series, but the line folded before that story could be published. ([1])
Miller is one of several authors who have produced annotations for their published works.
Star Trek bibliography
Appendices
External links