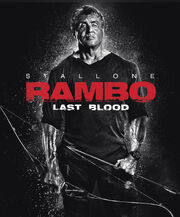 John James Rambo was a fictional character, a Human man of the 20th century who was the subject of literature and movies in the popular entertainment of that era on the planet Earth.
History and specifics
[
]
Rambo first presented in a story describing the difficulty of integrating soldiers from the Vietnam War back into the society of the United States of America. As the tale was adapted for film drama, the violence of the character proved popular with audiences and over the course of decades a number of less introspective action movies featured the character's violent nature.
In the year 1986, Roberta Lincoln referenced Rambo when confronting Shannon O'Donnel. When Lincoln attempted to hold O'Donnel at bay with her servo, she warned that it was a weapon in case O'Donnel might "go Rambo" a reference to becoming violent. (TOS - The Eugenics Wars novel: The Rise and Fall of Khan Noonien Singh, Volume 1)
In 2369, Worf and William Riker discussed films over a Klingon food dinner which included scrag. Worf informed Riker that his examination of ancient film archives yielded Rambo V, which Worf referred to as a glorious tale with roots in comedy, which contained frequent, honorable displays of hand-to-hand combat, obvious villains and a hero who never speaks. Riker asked what was so glorious and Worf simply responded that everyone dies. Riker changed the subject to say that he had found another comedy. (TNG novel: Debtors' Planet)
Appendices
[
]
Connections
[
]
References
[
]
External links
[
]