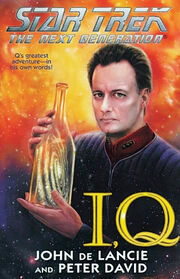 John de Lancie is an American actor best known to Star Trek fans for playing Q in Star Trek: The Next Generation, Star Trek: Deep Space Nine, and Star Trek: Voyager. He has also played the character in the video games Star Trek: The Game Show and Star Trek: Borg. In addition, he provided the voice of Q for the audiobooks Spock vs. Q and Spock vs. Q: The Sequel.
His son, Keegan de Lancie, appeared with his father as q in the Voyager episode "Q2."
Along with Peter David, de Lancie is the co-author of the TNG novel I, Q. He is also the writer of the Star Trek: The Next Generation Annual #1 ("The Gift") from DC Comics.
External Links
Edit
Community content is available under
CC-BY-SA
unless otherwise noted.