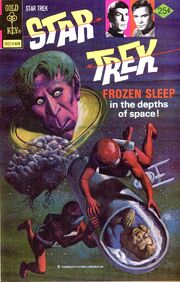 José Delbo (1933-) is a comic book artist with a career spanning five decades. He was an artist for "Prophet of Peace", the 38th issue of Gold Key's Star Trek: The Original Series comic, along with Alberto Giolitti and other artists. [1]
He worked with a variety of Star Trek authors and artists on other projects. For Whitman's four-issue 1976 Starstream he contributed along with Frank Bolle, Arnold Drake, Alberto Giolitti, George Kashdan, Alden McWilliams, Allan Moniz and Nevio Zeccara to adapt stories by Robert Bloch, Larry Niven, and Isaac Asimov. He worked with writers Gerry Conway and Martin Pasko on DC Comics' Wonder Woman, with Gerry Boudreau and John Warner on Mighty Samson, and with Bolle and McWilliams on Whitman's Twilight Zone and Buck Rogers in the 25th Century.
Community content is available under
CC-BY-SA
unless otherwise noted.