Julia Ecklar has written one Star Trek novel on her own, but primarily writes such novels as part of the writing team using the pseudonym L.A. Graf, along with Karen Rose Cercone and (in one instance) Melissa Crandall. Outside of her work as an author, she is most well-known for her contributions to filk music.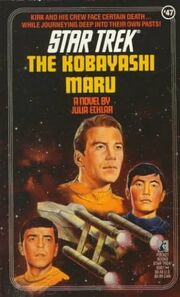 Ecklar discussed The Kobayashi Maru, along with Star Trek novels in general and their relation to canon, in "The Star Trek Universe: A Novel Approach," one of the Special Features on The Director's Edition DVD of Star Trek II: The Wrath of Khan.
Star Trek Bibliography
For further titles, see L.A. Graf.
External Links