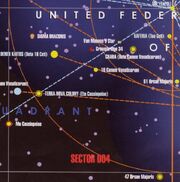 Kaferia (also known as Tau Ceti III) is a planet, the third planet in the Tau Ceti system, in Sector 004 of the galaxy's Alpha Quadrant.
History and specifics
It is home to the Kaferian insectoid civilization. (ST reference: The Worlds of the Federation)
Humans had known of Kaferia prior to the year 2151. One of its more notable exports is the Kaferian apple, which would be considered a delicacy across the Alpha Quadrant in the 23rd century. (TOS episode: "Where No Man Has Gone Before"; ENT episode: "Strange New World"; TOS - Strange New Worlds 9 short story: "Gone Native"; ST reference: The Worlds of the Federation)
By the 2160s decade, Kaferia was on Vulcan trade routes. (ST reference: Star Charts)
In the mid-24th century, Jean-Luc Picard and Walker Keel first met in an exotic bar located on the planet. (TNG episode: "Conspiracy")
This article or section is incomplete
This article is marked as lacking essential detail, and needs attention. Information regarding expansion requirements may be found on the article's

talk page

. Feel free to edit this page to assist with this expansion.
Names
Appendices
References
External link