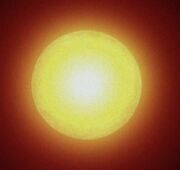 Kappa Fornacis, the Denevan sun, was the primary star and center the Denevan system of the Beta Quadrant.
In 2267, a Denevan pilot that had been infected by neural parasites flew his small one-man ship into the star in order to remove the parasites influence on him. Although the ultraviolet radiation generated from the star removed the influence, he died seconds later when his ship burnt up. (TOS - Star Trek 2 novelization: Operation -- Annihilate!)
Appendices
Edit
Connections
Edit
External link
Edit
Community content is available under
CC-BY-SA
unless otherwise noted.