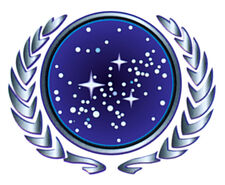 The Karekh-class was a type of explorer in Starfleet service in the 23rd century. (FASA RPG module: Federation Ship Recognition Manual).
The class was named after a famous commander of the same name.
These vessels were Vulcan designed and manufactured exploration craft which was created specifically with the intention of mapping space as well as performing related duties. As such, these vessels had an unusually powerful computer system for a ship of its size. It was not a particularly well known type of ship but it was well suited for its mission with its overall reliability being one of its primary strengths. The interior configuration of this ship was similar to that of the Mission class but had two decks instead of three. As part of its duty, these ships were also known for finding new planetary systems. Once it found a new system, these explorers investigated further and determined if the area was suitable for colonization or whether it needed further evaluation from a better equipped starship. The Karekh class made a great deal of celestial discoveries and first contact situations which was a source of tremendous satisfaction to Starfleet as well as the Vulcan builders.
A notable difference between the Karekh class and its counterparts was the complete lack of weaponry present on these ships. This made it very popular amongst Vulcan crews but less popular to other races such as the Andorians with none willingly serving on such vessels. Due to the lack of armaments, there were several restrictions on what duties such starshiups can take. They were generally used to patrol, monitor and explore safer regions within the United Federation of Planets; this was especially the case with areas that did not warrant the use of a larger vessel. The FSB deflectors and binary transducer systems served as an adequate form of protection against unknown dangers with the Karekhs high speed allowing it to escape anything it could not handle through peaceful means.
Most Karekh explorers served within the Galactic Exploration Command though a small numbers were also assigned to the Merchant Marines and other Commands. The design was also being considered for an upgrade to a Mark II type which had a more powerful impulse engine with a reinforced superstructure and more efficient deflectors. The final results of the evaluation were expected to arrive on Stardate 2/2503. One the 125 ships built, 83 served within the Exploration Command whilst 17 served in the Merchant Marines and 2 were used by Starfleet Training Command along with 12 being assigned to Starfleet Intelligence. Of the remaining craft; 2 were destroyed, 1 was listed as missing and 5 were sold to private individuals. After this production run, no new Karekhs were produced and should the craft be given an upgrade, it was expected to take place at either Sol IV and the Vulcan Shipyards. (FASA RPG module: Old Soldiers Never Die)
Community content is available under
CC-BY-SA
unless otherwise noted.