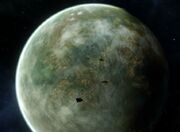 Karemma was a Class M planet in the Gamma Quadrant, home to the Karemma species.
Its governing body is known as the Karemma Foundation and, although it is not a member world of the Dominion, it is closely allied to it. It had an estimated population of four and a half billion in the 2370s. Karemma's capital city is called Kecemen. (ST reference: Star Charts)
Karemma is believed to have developed warp drive around the year 2300. (ST reference: Star Charts)
The USS Defiant travelled to the planet in 2371, while attempting to make first contact with the Founders. Minister Ornithar pointed them in the direction of the subspace relay on Callinon VII. (DS9 episode & novelization: The Search)
After Minister Hanok and the crew accompanying were saved from the Jem'Hadar in 2372, they were brought to Deep Space 9 by the damaged Defiant so they could return to Karemma at a later date. (DS9 episode: "Starship Down")
A new education centre had been established on Karemma by the Dominion in late 2376. (DS9 novel: The Dominion: Olympus Descending)
In 2410, the Hur'q Assembly attacked Karemma. A combined task force of the Alliance and Vanguard Fleet moved past a Dominion blockade to liberate the planet. The Karemmans subsequently considered leaving the Dominion. (STO - Gamma Quadrant mission: "The Search")
Community content is available under
CC-BY-SA
unless otherwise noted.