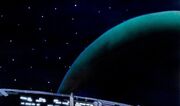 Karvis was a city on Bajor that is located on the planet's southern continent. It is situated at the mouth of the Teejan River.
In the early 2340s, during the Occupation, Gul Divok's Cardassian engineers changed the routes of several of the Teejan's tributaries. They installed water pumps to remove the increased water flow away from Karvis.
By 2372, the pumps' power cells had begun to fail and Administrator Pernon Obahr turned to his old Resistance friend Kira Nerys for help. Pernon had found new Cardassian power cells, but the Retizian who owned them, Fel Jangor, was asking for a high price for them. Kira found out that Quark was an old friend of Jangor's, although Quark fell ill before the transaction could be made. Odo and Rom were able to obtain the power cells soon after, ensuring Karvis would not be flooded. (DS9 novel: Saratoga)
Community content is available under
CC-BY-SA
unless otherwise noted.