Kaus Borealis was a star with an associated star system, also known as Lambda Sagittarii, 22 Sagittarii or Chalna. (ST reference: Star Charts)
History and specifics
Kaus Borealis was a class K orange giant located in the Alpha Quadrant of the galaxy, about 77 light-years from Earth. (ST reference: Star Charts)
The system contained at least five planets, the fifth of which was Chalna, homeworld of the Chalnoth civilization. The USS Stargazer visited the system in 2354 on a mission of diplomacy. (TNG comic: "Children of Chaos"; TNG episode: "Allegiance")
Alternate timelines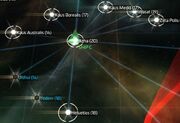 In a version of the Kelvin timeline, Kaus Borealis was located in the Neutral Zone, a swath of space coveted between the Federation, Klingon Empire and Romulan Star Empire. In the 2260s decade, the system was patrolled by Suliban nomads and lay within several light-years from the Klingon border. The system was rich with asteroids suitable for mining pasteel.
In the year 2262, the artificial intelligence Maia and her Independent commander were offered contracts by the Klingon colony on Saxol. (ST video game: Fleet Command missions: "Once More Unto the Breach", "Day of Honor", "A Bitter Taste")
System makeup
Appendices
Connections
Background
Fleet Command uses planets in the system to serve as anchors for the player's starbase.
In TNG video game: Birth of the Federation, the orbital configuration of the game map star systems was randomly generated each time a new game started.
References
External link