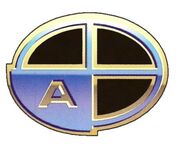 Kazar was a star system, a trinary star located in Federation space somewhere in the galaxy's Alpha Quadrant.
Kazar was in the vicinity of Tau Ursae Majoris, Bre'el, Talos star group, Psi Tauri and Nigala Station.
Kazar's orbit was the location of a planetary system, including Kazar, homeworld of the Kazarite civilization. (ST reference: Star Charts)
Kazar system trinary star
Community content is available under
CC-BY-SA
unless otherwise noted.