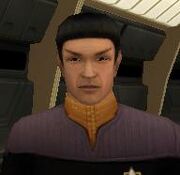 Kelock was a Vulcan Starfleet crewmember. Early in his career he served aboard the Federation flagship, the USS Enterprise-E.
In 2380, he was aboard the Enterprise-E on missions involving encounters with the Idryll, the exomorphs and the Attrexians.
Circa 2380, he was 180.4 cm tall, and weighed 83.87 kilograms. (TNG video game: Elite Force II)
Community content is available under
CC-BY-SA
unless otherwise noted.