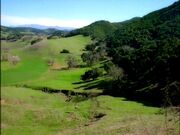 Kendra Province was a region of the planet Bajor, the site of the Kendra Valley.
During the Occupation of Bajor the Province was the site of infamous Kendra Valley Massacre, where 42 members of the Bajoran Resistance were killed. (DS9 episode: "The Collaborator")
In 2374 the Province was shaken by earthquakes caused by instability of the Bajoran wormhole during the Reckoning. The quakes left thousands homeless. (DS9 episode: "The Reckoning")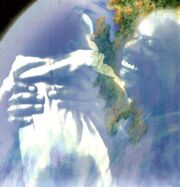 In 2375, Benjamin Sisko bought twelve hecapates of land in Kendra Valley, south of the Yolja River. There he planned to build a house after the Dominion War to retire to. (DS9 episode: "Penumbra")
The construction of Sisko's house was finished by April 2376, one of the final elements being a rare wood burning stove acquired for Sisko by Quark. Sisko himself was spending time with the Prophets but the house was still lived in by his then pregnant wife Kasidy Yates. (DS9 novel: Avatar, Book One)
Community content is available under
CC-BY-SA
unless otherwise noted.