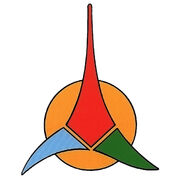 The Kenka familial line was a prominent Klingon family of the 23rd century, and was descended from Klingon Nobility. (TOS video game: Star Trek: 25th Anniversary)
At least some of the family members were affected by the augment virus in the 22nd century. Becoming QuchHa', these members of the Kenka family passed on their more human like traits to their descendants. (ENT episodes: "Affliction", "Divergence"; VAN novel: Summon the Thunder)
Among the QuchHa' descendants was a male named Vlict Kenka,an Admiral in the Klingon Defense Force who led the family in the mid 2260s.
The family held the Klingon world of Hrakkour IV. When the entity Quetzalcoatl - who had visited Earth several hundred years earlier - came to Hrakkour and influenced the population of the world to adopt a more peaceful lifestyle, Kenka committed genocide against the population of Hrakkour. Among the dead were many members of the Kenka family. (TOS video game: Star Trek: 25th Anniversary)
Community content is available under
CC-BY-SA
unless otherwise noted.