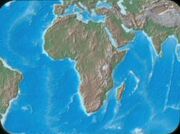 Kenya was a region on planet Earth. A formerly independent state, it was a division of the United States of Africa. (TOS novel: The Starless World.
Its capital city was Nairobi, birthplace of USS Enterprise communications officer and Starfleet Intelligence Chief Nyota Uhura. She would later live in Mombasa. (TOS novels: The Starless World, Uhura's Song)
In her childhood, fiece downpours surged against the roof of Uhura's home during the long-rains season. (TOS episode: "The Face of the Unknown")
In the 23rd century, Induna, president of the Keep Earth Human League, was from Kenya. (TOS novel: Sarek)
In 2254, Kenya appearead on a 21st century political map of Earth when the Talosians accessed the Enterprise's library computer. On the map, Kenya was marked orange, shared a border with Somalia and had a coastline with the Indian Ocean. (TOS episode: "The Cage")
When listening to the electromagnetic outpost of Cherela in 2270, Uhura was reminded of the long-rains season's downpour on her childhood home in Kenya. (TOS episode: "The Face of the Unknown")
Locations
Edit
Connections
Edit
External link
Edit
Community content is available under
CC-BY-SA
unless otherwise noted.