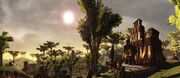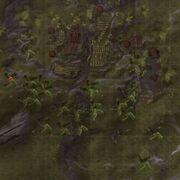 The Ketha Lowlands was a region of the planet Qo'noS, specifically in Ketha Province.
Martok was born in the Ketha Lowlands. (DS9 episodes: "Once More Unto the Breach", "Tacking Into the Wind")
Although Martok had few happy memories of his difficult childhood, one was the remembrance of his father Urthog taking him on his first hunt in the Ketha Lowlands; although the hunting was poor, Martok's father shared many stories of Kahless the Unforgettable. (TNG novel: A Time for War, A Time for Peace)
By 2375, Ketha Lowlands had become a complete wasteland. When Morjod destroyed the IKS Negh'Var, Martok returned to Ketha to mount a defense. (DS9 - The Left Hand of Destiny novels: Book One, Book Two)
By 2409, the estate of House Martok was located in the Ketha Lowlands. The area surrounding Lady Sirella's manor pointed to a temperate climate. The hills were made of gray granite, and covered in foliage like grass, bushes and trees. Wild targ packs roamed the area. Farmers tended to the plants around the manor and between other estate buildings. In that year, Tal Shiar agent Tarsen infiltrated Sirella's estate and planted explosives. They were disarmed by a Klingon Defense Force away team accompanied by "K'mtar", Alexander Rozhenko. (STO - Warzone mission: "Bringing Down the House")
Alexander and the KDF team returned to the estate with gin'tak Worf, son of Mogh, following M'ven's death at Tarsen's hands on Forcas III. (STO - Warzone mission: "The House Always Wins")
House of Martok estate

Sirella's mansion
farmland
stockades
landing pad
Community content is available under
CC-BY-SA
unless otherwise noted.