Klingon Civil War is a story-arc episode, a chain of cross-faction missions in Star Trek Online. The player participates in the Klingon Civil War of 2411 where the Klingon Empire becomes the battlefield between forces loyal to Chancellor J'mpok and those of the time-displaced House of Mo'Kai, led by Matriarch J'Ula.
The Klingon Civil War is preceded by the episode "J'Ula's Discovery".
Blurb
The conflict between J'mpok and J'Ula heats up as sides are chosen for the future of the Klingon Empire.
List of missions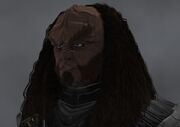 Related content
Appendices
Connections
External links