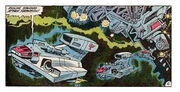 Klingon attack shuttlecraft was a type of shuttlecraft, a task-specific type of Klingon shuttlecraft in service to the Imperial Klingon Defense Force in the late 23rd century.
In the year 2285, a number of attack shuttlecraft were attached to a Klingon wormhole space station, under the command of Captain Koloth. When the USS Enterprise Class F shuttlecraft, Galileo III, entered the wormhole, a number of attack shuttlecraft were dispatched to disable and capture the vessel.
The station's complement of attack shuttlecraft was presumably destroyed when Koloth self-destructed the station. (TOS comic: "... The Only Good Klingon...")
Connections
Edit
Community content is available under
CC-BY-SA
unless otherwise noted.