Line 3:
Line 3:
 
 
 

One such [[U'Jahl's ship|ship]] was commanded by [[Captain]] [[U'Jahl]]. ({{c|TOS|sub=Year Five|{{a|Year Five, Issue 6|Issue 6}}}})

 

One such [[U'Jahl's ship|ship]] was commanded by [[Captain]] [[U'Jahl]]. ({{c|TOS|sub=Year Five|{{a|Year Five, Issue 6|Issue 6}}}})

 
+
 
+

==Appendices==

 
+

===Connections===

 
+

{{bird-of-prey classes}}

 

[[Category:Klingon starships]]

 

[[Category:Klingon starships]]

 

[[Category:Bird of prey classes]]

 

[[Category:Bird of prey classes]]
---
Revision as of 10:44, 27 September 2019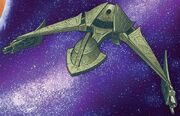 The Bird-of-Prey was a Klingon type of starship used by the Empire's Defense Force in the 2260s, one of the early ships in the long line of Klingon Birds-of-Prey.
One such ship was commanded by Captain U'Jahl. (TOS - Year Five comic: "Issue 6")
Appendices
Connections
Community content is available under
CC-BY-SA
unless otherwise noted.