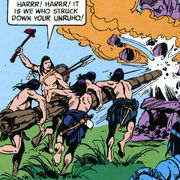 The Kovar people were a group of humanoids native to the planet Neesan.
History and specifics
[
]
The Kovar were cavemen living near the Lydo region, in land near the Tol tribe. They used simple cudgels for weapons, but had domesticated the Neesan armadillo, an armored creature which they rode through jungles and in combats like an Earth elephant.
History
[
]
In the year 2266, a landing party from the Federation starship USS Enterprise visited the Tol tribe. The Kovar moved to invade Tol land, but agreed to unite in peace after chief Jeebo was stymied by the dematerialization and rematerialization of Spock, who was playing the part of the Tol deity Unruho to try to stop the violence. (TOS comic: "The Cosmic Cavemen")
Appendices
[
]
References
[
]
Images
[
]