The Kradin-Vori planet was a planet located in the space of the galaxy's Delta Quadrant, in orbit of the Kradin-Vori binary star system.
Details and history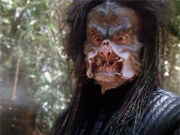 It is not known if this was the homeworld of either the Kradin or Vori civilizations, but this world was the site of military activity by both species in an ongoing conflict
The Federation starship USS Voyager followed Chakotay's shuttlecraft here in the year 2374. Captain Janeway and Tuvok worked with the Kradin to recover Chakotay from a Vori indoctrination camp. (VOY episode: "Nemesis"; ST reference: Star Charts)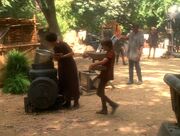 This article or section is incomplete
This article is marked as lacking essential detail, and needs attention. Information regarding expansion requirements may be found on the article's

talk page

. Feel free to edit this page to assist with this expansion.
Locations
Appendices
Connections
Appearances and references
Appearances
References
External links