For the primary universe counterpart, see Kras.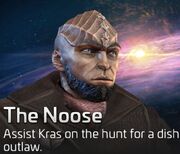 In a version of the Kelvin timeline, Kras was a male 23rd century Klingon. In the 2260s decade, Kras was an officer in the Klingon Empire's Defense Force. He was the commanding officer of his own ship. (ST video game: Fleet Command)
History
[
]
In the year 2262, Kras served on Nu'Daq Station at Khitomer. He hired a visiting Independent from the Neutral Zone to eliminate the Klingon outlaw Mokgar.
Considered by Kras a petulant worm, Mokgar crossed the line when sabotaged the impulse engines of Kras's ship. His vessel was grounded at Nu'Daq Station in Khitomer's orbit. Kras likened this tactic to a Ferengi scheme. Kras knew that Mokgar remained in the Khitomer system. He directed the Independent to the planets. They found Mokgar's Klingon Outlaw ship in orbit of Fek'lhr. The noose tightened around the neck of the outlaw, and Kras wanted that k'pekt eliminated. The Independent destroyed the Klingon Outlaw in battle, fulfilling Kras's request. Kras held up his side of the bargain and paid the mercenary. (ST video game: Fleet Command mission "Excess")
Appendices
[
]
References
[
]