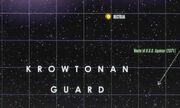 The Krowtonan Guard was an interstellar nation located in the Milky Way Galaxy's Delta Quadrant. (VOY episode & novelization: Equinox; ST reference: Star Charts)
In the year 2371, the Federation starship the USS Equinox had inadvertently violated the space of the Krowtonan Guard in its first week after being stranded in the Delta Quadrant. When the Equinox proceeded through Krowtonan territory, the Guard attacked the ship, which lost 39 crewmembers, more than half of the ship's complement.
In 2375, Captain Rudolph Ransom told Kathryn Janeway of the USS Voyager that his crew never fully recovered from those traumatic events. (VOY episode & novelization: Equinox)
Territory
Edit
The Krowtonan Guard covered a portion of region beyond the coreward Nekrit Expanse, ca. 70.000 ly from Sol. The Guard lay between the rimward Haakonian Order and the coreward Vidiian Sodality. (ST reference: Star Charts)
Inhabited planets and star systems in or near the territory of the Haakonian Order included:
Appendices
Edit
Connections
Edit
External link
Edit
References
Edit
Community content is available under
CC-BY-SA
unless otherwise noted.