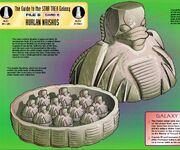 A
Kurlan naiskos
is a ceramic figurine that was developed by the
Trill
thousands of years ago. The naiskos consisted of a large hollow body that contained several smaller versions inside, the intention being to reflect the Trill belief that an individual was more than a single person, but rather a community of people due to the connection to the
Trill symbionts
. Until
2376
, it was thought that the naiskos was created on
Kurl
, although they were brought there by the Trill who colonised the planet. (
TNG
episode
: "
The Chase
",
DS9
-
Worlds of Deep Space Nine
novel
:
Trill: Unjoined
)
In 2369, Jean-Luc Picard was given a Third Dynasty Kurlan naiskos by Richard Galen. (TNG episode: "The Chase")
In 2371, Picard left his Kurlan naiskos in the wreckage of his ready room aboard the USS Enterprise after the starship crashed on Veridian III. (ST movie: Star Trek Generations)
In 2376, Julian Bashir and Ezri Dax discovered a fragment of a Kurlan naiskos on Minos Korva, in a cave that had been occupied by a parasite spawnmother. Ezri would later discover that the naiskos artform had actually originated from Trill and were among the possessions of the colonists, with others created later on Kurl. (DS9 - Worlds of Deep Space Nine novel: Trill: Unjoined)
External link
Edit
Community content is available under
CC-BY-SA
unless otherwise noted.