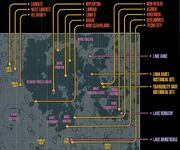 Lake Armstrong is a large artificial body of water which was located in Tycho Crater on Luna.
History and specifics
It was situated near the city of New Chicago. (ST reference: Star Charts; ST video game: Elite Force II)
The lake was large enough to be seen on Earth on a clear day. (TNG movie: Star Trek: First Contact)
Near Tycho City and covered by a vast pressure dome, the lake filled most of Tycho Crater. Trees grew 20 meters tall at the shoreline thanks to genetic engineering and light gravity. (Last Unicorn RPG module: A Cadet's Guide to Sector 001 Earth)
Alana Hart was born in the area surrounding Lake Armstrong on 4 April 2125. (ENT novel: What Price Honor?)
William Riker had a holodeck program aboard the USS Titan that recreated Lake Armstrong. (TTN novel: Synthesis)
The lake was presumably named after Neil Armstrong.
Appendices
Connections
References
External link