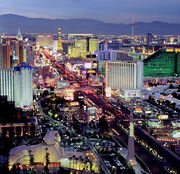 Las Vegas was a city in the state of Nevada within the United States of America on Earth. In the 20th and 21st centuries, it was one of the most popular entertainment centers on planet.
Las Vegas, circa 1962, was the setting for Julian Bashir's Vic Fontaine holoprogram. (DS9 episodes: "His Way", "It's Only a Paper Moon", "Badda-Bing, Badda-Bang")
A Las Vegas casino was the setting of the 21st century novel Hotel Royale by Todd Matthews. (TNG episode: "The Royale")
Young Electric Sign Company was located in Las Vegas, where it made the distinctive lighted signs that lined the city's famous Strip.
Caesar's Palace in Las Vegas was the operational command center for Colonel Amber's Regimental Volunteers in the early days of World War III, and was the site of the final battle of the Siege of Las Vegas. (DS9 - The Lives of Dax short story: "Second Star to the Right...")
In the early 23rd century, T.J. McCoy attended a business meeting in Las Vegas, accompanied by his grandson, Leonard. (TOS short story: "Make-Believe")
Star Trek: The Experience was located in Las Vegas from 1998 to 2008.
Community content is available under
CC-BY-SA
unless otherwise noted.