For other uses, see Legacy.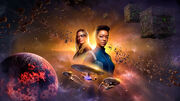 Legacy was the 19th "season" update to STO video game: Star Trek Online, on 28 January 2020. Legacy came after Awakening, which was released 10 September 2019, and was followed by House Divided on 30 June.
History and specifics
Legacy advances the game timeline to the year 2411.
This article is a stub relating to an author, illustrator or other publishing production information. You can help our database by expanding on it.
Season 19 dev blogs
"10th Anniversary Legendary Starship Bundles", published on the ARC website on 27 January 2020. The developer blog was written by Cryptic Studios community rep

Mike "AmbassadorKael" Fatum

. This blog introduces the legendary starship category. Ten iconic starships receive a facelift for the 10th anniversary of the game, released. At the time of the blog's release, the upcoming

legendary command exploration cruiser

and legendary pilot warship are revealed, while the other eight ship types remain shrouded by Odyssey-class silhouettes, until those were revealed as well. The dev blog includes a render of a USS Enterprise-D replica, the USS Defiant, and Odyssey-class shadows, heading away from a star. Below the image, the articles links to blog sub-pages focusing on each of the legendary ship types.
"Legendary Miracle Worker Multi-Mission Science Vessel" was published by Fatum on 7 February. This blog introduces the legendary

miracle worker multi-mission explorer

category, a subclass of the legendary starship, miracle worker ship and multi-mission science vessel. The legendary miracle worker light cruiser is based on the 2370s-era Intrepid-class long range science vessel. It introduces the warship version of the Intrepid class from the VOY episode: "Living Witness".
References
Starships and vehicles
Appendices
Images
Connections
External link