For other uses, see Legacy.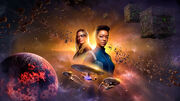 Legacy was the 19th "season" update to STO video game: Star Trek Online, on 28 January 2020. Legacy came after Awakening, which was released 10 September 2019, and was followed by House Divided on 30 June.
History and specifics
[
]
Legacy advances the game timeline to the year 2411.
This article is a stub relating to an author, illustrator or other publishing production information. You can help our database by expanding on it.
Appendices
[
]
Images
[
]
Connections
[
]
External link
[
]